Contact us today for consignment information !
Wednesday Night Auctions
319-313-8499 office ... 319-795-1872 Cell ... 217-256-3370 Home
Next Consignment Auction
July 18th 5:30 PM
@ our facility,
3971 Main St Keokuk
Abbreviated Listing
10' X 16' Portable Building, Furniture, Appliances, Primitives, Push Mowers,John Deere D170 Riding Mower w/ 54" Cut, Go Cart, Bicycle, Patio Furniture, Cast Iron, Skillets, Tractor Seats, BB Guns, Comic Books, Star Wars Items, 80's Action Figures, Camera Drone (new in Box), Case XX Para Trooper Knife, Machete w/ Carved Wooden Sheath, Hoosier Cabinet Top, Costume Jewelry, Sterling Flatware, Air Conditioners, Vintage Door w/ Stain Glass, Retro Lamps, Craftsman Saws, Rigid Radial Arm Saw, Power Tools, Compressor, Engine Hoist, Ariens 22" cut Walk Behind Weedeater, Troy Bilt Tuffy Rear Tine Tiller, and more to come ...
Go To:
Photo Listing For Viewing
***
Robert Clark Partial Estate Auction
Includes Garage and Shop Type Items
Auction to be held on Location
240 Jackson St Warsaw Il
Saturday July, 28th 9:00 AM
Listing Below:
Vintage Tokheim Gas Pump w/ Phillips 66 Globe, Red Crown Gasoline Sign, 10' Jon Boat, Trailer w/ Sideboards,Winch,& Ramps (4'x8'), Hit N Miss Engine, Rigid Pipe Vice, Wheelbarrows, Cement Mixer, Creepers, Car Ramps, Torch Set, Several Hydraulic Floor Jacks, Air Tools, Wrenches, Sockets, Arc Welder, Welding Helmets, 1 1/2 Ton Engine Hoist, Engine Stand, Air Compressors, Sears Air Compressor Paint Sprayer, Pro Tec Drill Press, Master Force Drill Press, Yard Sweeper, Lawn Boy Push Mowers, Kubota T1560 Riding Mower, Wheel Horse C125, Wheel Horse Raider12/ 6 Speed Tranny, Work Horse 700 w/ Blade & Chains, Atlas Snow Blower, Ryobi 31cc Garden Tiller, Ready Heater, Stihl Electric Chain Saw, AgTronic Generator, 2 Section Scaffold, 1 Ton Chain Hoist, Vintage Car Parts, Air Horns, Briggs & Stratton 7 Horse Engine, Milwaukee Sawzall, Army Cot, Bag Chairs, Extension Ladders, Power Cords, Clamps, Vices, Power Tools, Hand Tools, Floor Jacks, Jack Stands, Camping Equipment, Peavey Column Speakers w/ Peavey XR Amp, Quick Shade Pop Up, Squirrel Cage Fan, Falstaff Beer Hanging Light, Oly Neon Beer Sign, Buck Saws, Horse Collar, Iron Wheels, Metal Shelving, Pick Axes, Spades, Long Handle Tools, Cast Iron Parlor Stove (Quincy, Il), Maytag Ringer Washer, Brass Steam Whistle & whistle parts, Scythe, Skeleton Keys, Assorted Area Yard Sticks, General Electric Tube Radio, Galvanized Tub, Vintage U.S Postage Stamp Machine, Local Painting, Road Signs, Vintage Leather Motorcycle Saddle Bags, Helmets, Ertl Toy Dump Truck, 8' Toboggan, Sled, Magic Chef Dorm Refrigerator, Hand Carved Walking Stick, Air Pig, Battery Charger, Old Car Manuals, Bench Grinder, and Much More!
Join us Saturday July 28th, @ 9:00AM
Auctioneer's Note: We will be selling the Late Mr. Clark's Garage and Shop Items (no Household). Lots of Good Clean, Usable and Collectible Items. Join us Saturday July, 28th @ 9:00AM. Food & Drink available.
Go To;
Photo Listing for viewing items
..... Buildings Now On Location .....
We are excited to be the areas newest dealer of
" Schrock's Portable Buildings "
These building are made to order, coming in different materials, all colors, shapes, and sizes!
... Delivery and Finance available ...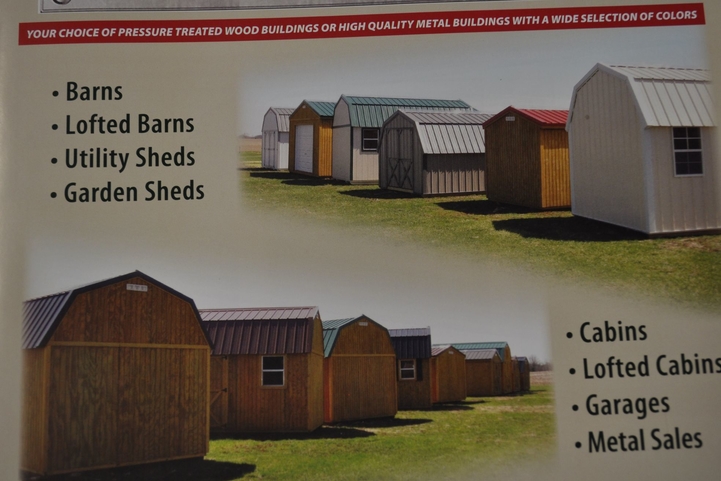 Contact us and place your order today
please sign our guestbook !
email:
or text :
319-795-1872
Bluegrass Auction Service
Ernie Paulson ... Auctioneer
217-256-3370 home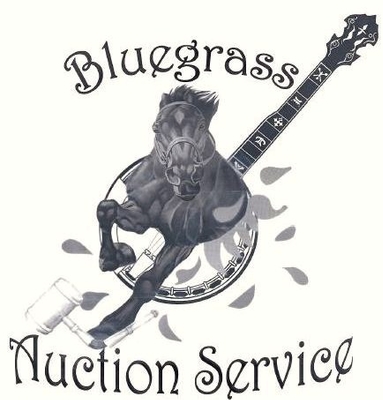 Not responsible for accident, all announcements made sale date supersede listing.
We act only as agent . Guarantees between buyer and seller !
Joy Kirkpatrick, sole proprietor
font: 11px/normal Tahoma
| | |
| --- | --- |
| row 1, cell 1 | row 1, cell 2 |
| row 2, cell 1 | |